Roll over image to zoom in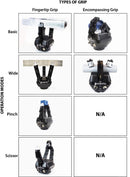 Description
The Robotiq 3-Finger adaptive gripper is the best option for maximum versatility and flexibility. It picks up any object of any shape. It is ideal for advanced manufacturing and robotic research. It adapts to the object's shape for a solid grip, so you can focus on the task and not the grasping. With force, position and speed control for each individual and 4 different grip modes, the Robotiq 3-Finger gripper can pick almost anything.
Free shipping!
Features:
Payload up to 10 kg (22 lb) - fingertip grip up to 2.5 kg (5.5 lb)
Adjustable gripping stroke from 0 mm to 155 mm (0 to 6.1 in)
Object diameter for encompassing grip from 20 to 155 mm (0.8 to 6.1 in)
Adjustable gripping force from 30 to 70 N (6.7 to 15.7 lbf)
Gripping force accuracy ±15%
--
The Robotiq 3-Finger adaptive gripper is one of the most flexible grippers for Universal Robots. To help you get started with this gripper, Robotiq offers pre-built program templates for the most common applications that can be automated with Universal Robots.
The Robotiq 3-Finger gripper allows you to control each finger individually.
The gripper supports four different grip types:
Pinch Mode
Wide Mode
Scissor Mode
Basic Mode

Payment & Security
Your payment information is processed securely. We do not store credit card details nor have access to your credit card information.